Arctic Keys is a virtual analog synthesizer for iPad.  With a dual-oscillating subtractive synthesis engine, most users will be fairly familiar with its parameters for sculpting sounds.
The user interface is inviting and friendly, laying almost everything out in the open.  You don't have to sift through endless pages in search of hidden menus, which is a considerable problem for many iOS music apps.
It also has a sequencer and although it's rather clunky, it does have some nice features to it.
Overall, the synth sounds pretty good.  The presets are decent and can easily be tweaked to suit your needs.  The only problem with the presets is that the volume levels are sometimes inconsistent, which can be rather annoying.
For $5, this is a cool app with some nice features.  It's a few steps away from running with the 'big boys', but it's still a nice app worth checking out.
Bass Drop is a music creation app aimed at producing dirty basslines on the iPad.  It has a "Dubstep made easy" type of feel.  People with little musical experience (if any at all) can still produce some really cool results.
Juno's Piano is an educational music app for the iPad.  It's geared toward kids and provides a great platform for introducing them to music.  The game revolves around a touch screen piano roll and three modes of play.
Rhythm Pad is a drum machine app for your iPhone, iPod Touch, and iPad.  It comes in a conventional drum machine layout with a series of drum pads and a preset library of drum kits.  The kits range from acoustic to more abstract kits like Trip Hop and Chemical.
Notable features include: realistic hi-hat expression, position sensitive pads (sound louder when struck in the center), independent volume control for each pad, looping control and adjustable time signature settings.
There are two versions of Rhythm pad available – a free version with advertisements and another version for $2.99 without the advertisements.
This is a cool app worth checking out.  Our only gripe is that it's missing the ability to record and export work, but hopefully an update will bring those vital necessities.
vjay is an app that allows you to creatively bring together audio and video clips to create an authentic media experience.  You can create your own music videos, mash up different songs, and more.
It comes with a wealth of features like the ability to loop, cue, and slice audio and video; real time effects; customized video transitions; Video scratch; Auto Gain; Auto Sync, and Beat Matching.
While vjay is a feature-laden, innovative app for the iPad, it also has some kinks that need to be worked out.  Most notable, is the fact is doesn't handle 1080HD.
With that being said, this is still a revolutionary app for the iPad.  Algoriddim has clearly put a lot of time into creating it, so we're confident that updates will bring many welcomed additions and improvements.
It's on sale for $9.99, but we're not sure how long the sale will last.
inHarmony is an app focused on simplifying music composition by taking much of the guesswork out of musical theory.  It's designed to be a MIDI keyboard that allows you to work with your DAW.  Once your MID setup is complete, you can choose from any diatonic scale and the app will appropriate the chords in that scale for you.  You can then trigger these chords by touch – selecting from 2, 3, and 4 note chords.
It could easily be considered an educational tool as well.  People less adept to music theory will start to learn scales and common chord progressions that go well together.
Not every music producer is a keyboard virtuoso either.  With inHarmony you can trigger an entire chord with one touch, which makes playing complex chord progressions much easier as well.
The MIDI setup takes a bit of work, but for $2 this is a cool app that many music producers could benefit from.
Newzik HD (formally known as SyncSing HD) is a mobile song and notation book.  It gives you the ability to store lyrics, chord progressions, various files and more.   You can organize comprehensive playlists and the app's synch-able capabilities are a major plus for bands with multiple iPads.  With one iPad set as a master and other iPads synced to it, everybody can stay on the same page.  This makes it great for learning new material.
Other notable features include: synchronized scrolling of scores, karaoke mode, and being able to change pages by the tap of your foot (in case you don't have hands available).
We've heard of a few instability issues, but did we mention the app is free?
If you're looking for a way to organize a database of songs, with intricate details about those songs, then take a look at Newzik HD for iPad.

iMaschine is a beat sketchpad for your iPad.  It comes with 25 kits, over 400 drum samples and in-app expansion purchases that allow for a growing library collection.  You have the ability to record your own samples and to create your own custom kits as well.   The sounds are great and laying down ideas is a breeze.
Other notable features include Keyboard mode (for playing some bass and melodic riffs); Note Repeat and the ability to import your own 16-bit wave files.
If you don't know already, iMaschine is an iOS version of Maschine, which comes as a hardware/software bundle to create the ultimate drum creation experience.  While iMaschine is nowhere near as feature-laden as Maschine (from Native Instruments), it still carries a lot of the traits that made its predecessor so popular.
Purchasing this app is pretty much a no-brainer for people looking to get quality musical use out of their iPad.
Since its conception, the iPad has always had the potential to be a great mobile controller.  This potential is finally coming to fruition, thanks to companies like Liine who are converting their legendary hardware into an iOS format.
The Lemur is a welcomed addition to the world of iOS.  It draws on a lot of traits that make the hardware so popular. Any software or hardware that can be controlled by MIDI/OSC can be controlled by Lemur. This makes it an extremely powerful tool for DJ's, producers, and engineers a like.
Lemur has core MIDI support and can even let you control up to 8 computers at one time.  Template creation and sharing are also valuable assets to this program.
With this app you have the ability to control anything you want – so long as it's MIDI/ OSC compliant.  The thing that catches us off guard is the $50 price tag, which makes it one of the most expensive music apps we've come across.  While it may be an app of great detail, there are a lot of other controller apps that only cost a fraction of the price.
Be sure to do your research and make sure this is a 'must have' before you drop the big bucks!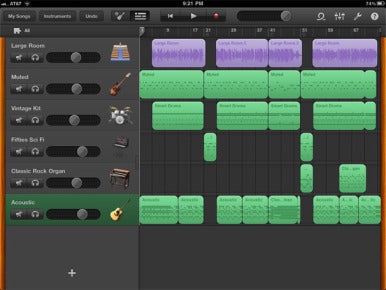 GarageBand for iOS 1.2 comes as a welcomed addition to the evolutionary chain of Apple's music apps.  Rightfully so, it's packed with some cool new features.  For starters, we now have a MIDI editor!  It's about time! It's fair to say that MIDI editing should have been available since the apps conception, but Apple seemed to get it right this time in a good way.
Another cool feature is the ability to merge tracks together to consolidate and save space.  You can bounce up to 8 tracks at a time if need be.  You'll also get some extra Smart Instruments and a much easier way of exporting and sharing your musical works with other people.
Jam Session takes sketching musical ideas to a whole new level.  This allows up to 4 iOS devices running GarageBand 1.2, to sync to a central host, making it a great tool for bands.
If you don't already own GarageBand, you'll definitely want to get it now!